Review: CarPro HydrO2: Touch-less Silica Sealant (Concentrate)
I'm days late with what I promised and sincerely apologize to all. It wasn't for lack of trying! I hope you enjoy the review. Please don't miss the video links as I don't see a way to make them show up large embedded in here.
Product Claims:
Introducing the incredibly easy to use, effective, and revolutionary true wipe-less silica sealant! CarPro HydrO2 is formulated with Hydrophilic glass fibers, silicon polymers, and fluoropolymers and can be applied to all vehicle surfaces! Paint, glass, plastic, convertible tops, wheels, calipers, and wheel wells are all easily within reach with HydrO2. HydrO2 was specifically formulated to save time and therefore money for all the Car Pros and enthusiasts alike. This new innovative coat forms an ultra-water-repellent coating and is applied by simply spraying and then rinsing off with only water!
A simple spray and rinse application saves time, and produces a brilliant protected shine that is incredibly easy to maintain. HydrO2 reacts chemically with water contact and transforms from hydrophilic to hydrophobic. The pressure from spraying with water accelerates the bonding of HydrO2 to the surface immediately creating a hydrophobic layer.
HydrO2 is climate and temperature stable, and is an extremely effective long lasting water repellent that is resistant to nearly all acids, alkaline solutions, and solvents while also offering significant UV protection for 1 to 3 months.
Love….. this picture from Sunday morning…. Just a little tease
Introduction:
When I heard HydrO2 was coming I was very excited and immediately had many questions. What's the durability? What's the cost per vehicle? What surfaces will it bond to? etc, etc. This review will attempt to answer these and other questions as well, although some will come via updates and further testing.
Product Details:
01.- Packaging: Plastic bottle / Measuring Cap / Cool label
2A.- Directions: Easy as pie
2B.- Dilution Ratio: 75% water / 25% HydrO2
03.- Viscosity: Thin, Slippery (Foams a little when shaken)
04.- Color: Green
05.- Scent: Mild
06.- Current Price: 1.7 oz. (50ml) = $ 8.99
07.- Current Price: 3.38 oz. (100ml) = $15.99
08.- Current Price: 16.9 oz. (500ml) = $54.99
09.- Current Price: 33.8 oz. (1000ml) = $99.99
10 - Current Price: 1.3 Gal. (5000ml) Inquire at CarPro-US.com
11.-Manufacturer: CarPro
12.-Made in: Korea
Directions & New Tips:
1.-In shaded location or shop wash your vehicle and remove any dirt from the surfaces. (Use car shampoos without wax or gloss enhancers.) Surface must be well cleaned from soap residue.
2.- Apply HydrO2 to wet surface only. (If applying to dry surfaces must be spray and wipe on small sections.)
3.-Dilute 1 part HydrO2 to 3 parts water (measure cap supplied 30ml), and shake. We recommend a spray bottle for fast and easy application with minimal use of product.
4.-Spray fine even mist of diluted HydrO2 on one third of vehicle (for instance roof, hood, windshield, and lid).
5.-Immediately rinse well with strong water pressure or using a pressure washer to produce physical shock and create a well formed coat.
6.-Repeat steps 4 & 5 on one side of the vehicle and then repeat 4 & 5 on the final untreated side.
7.-Finish by "flood rinsing" the vehicle without a spray nozzle to push all the water off from top down.
8.-Dry any remaining water by blowing off or with a clean microfiber waffle weave towel.
Environmental Conditions at time of testing:
Temperature: 70F - 75F
Humidity: 32% - 40%
Product: (500ml shown)
Nozzle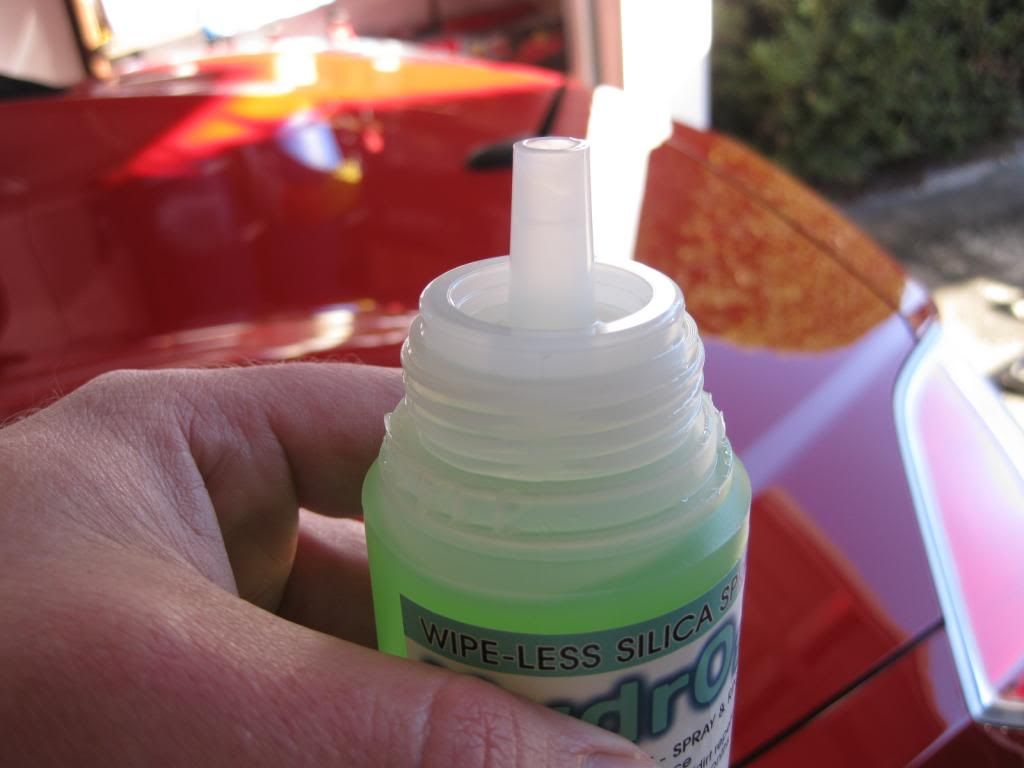 Product Cap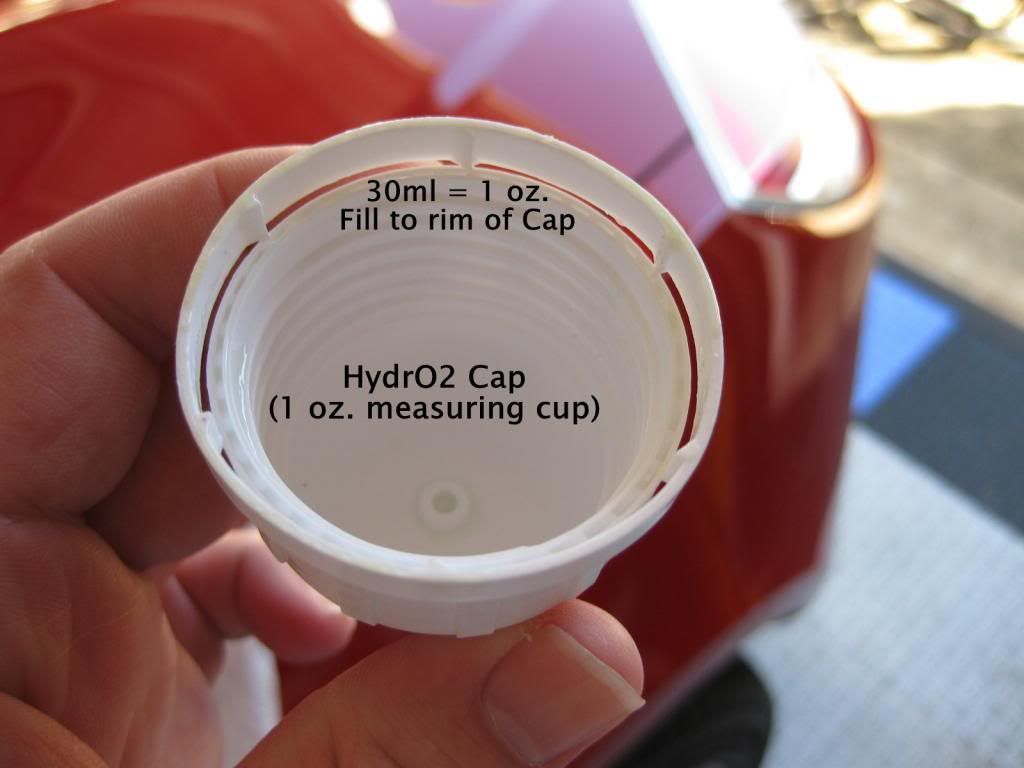 Additional tools used in testing application methods:
Spray Bottle
HVLP
First Subject –The Blue Saturn SL 1999 - Testing
The condition of the paint was not good. No polish, clay device, or Iron X has been used in a very long time and it's probably been months since its last wash. Lsp varies across surfaces and most areas in differing states of decay and affects from various tests. The windshield and drivers side glass however had Flyby30 applied to them approximately 8 weeks ago and are in great shape. (Spoiler: Hydro loves glass ☺)
Preparation:
One of the most important questions surrounding any lsp is, "How do I prepare the surface?" Testing the answer to this was 1/2 of the main focus on my first day of testing. While we all know we would first like to decontaminate and polish a vehicle before adding protection I think many of you also see HydrO2 as a special corner of the detailing market where you would like to simply wash the car and quickly add a layer of protection that outshines and stays cleaner than other products while protcting the finish from the environment.
Typically with a vehicle in this condition we would (at a bare minimum) use Iron x or Polyshave before application but this was/is to be our "worst case" test vehicle where we will attempt to learn first the best method of application, second how much differing soaps used in the wash stage have an affect on the coating, and third if leftover wax affects the coating.
I began by washing different sections with 3 different soaps including Ultima Paint Guard Wash (Driver rear), CarPro Iron X Snow Soap (Passenger Rear), and Dawn (Front end). All surfaces were rinsed very well. On the dawn sections the mitt was used during the rinse cycles as well to remove any remaining soap residue. This is to see long term what affect anything in the soaps have on bonding. As you may have noticed CarPro recommends not using gloss enhancing shampoos to clean the vehicle before application of Hydro. This is a standard request when dealing with silica products as the oils and fillers in traditional products can lower the durability of a silica sealant.
On to the part I had been anticipating! I had 4 choices but narrowed them down to HVLP and Sky Line chemical resistant spray bottle. First up was…
HVLP Application:
I decided to test the amount needed via HVLP for my first go with HydrO2 so I selected my smallest gun (1.0 needle) and poured 1 oz. (30ml) HydrO2 into the canister followed by 3 oz. of distilled water. I was able to apply to the full vehicle in less than 2 minutes of application time with a light mist. I did however find applying to the entire vehicle in one shot rather than 2 to 4 offers the possibility of streaks. Splitting it up (as I'll show on the Mustang later) mitigates the streaking threat. Next I sprayed the surface hard with the hose as directed and was done a few minutes later and ready to dry the vehicle. (Video link further down)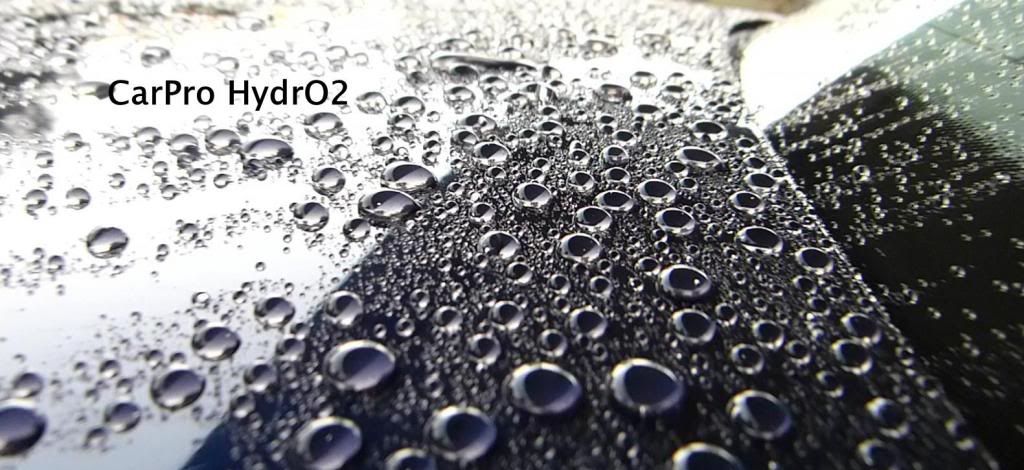 Spray Bottle Manual Application:
This time around I expected to need 50ml or more using a spray bottle. Avi had told me HydrO2 takes much less than that per car but I was sure it would take more. Im thrilled to say I was oh so wrong! After pouring a 50ml sample of HydrO2 into the spray bottle I added 150ml of distilled water. I then gave the bottle a good shake and refined the setting to the finest mist I could produce. With the vehicle still wet I sprayed an even mist circling the entire vehicle and applying to all glass, paint, and trim. Upon completion I checked the bottle and found I had used only 100ml of RTU which equates to 25ml! (less than an ounce of concentrate) Product cost was one of my concerns so discovering that such a small amount was needed absolutely thrilled me.
Before drying the vehicle I rinsed it with the flood method to remove all the water, which didn't work quite as well as expected but did remove a lot of it of course. After finishing with a waffle weave I discovered that spraying the entire car and talking to the camera is too long to leave the product on the surface. I had discovered streaks from leaving it on the surface for too long.
I half expected this may happen if the entire vehicle was completed at once in many conditions and knew immediately what I had done wrong. The next application I would change my method and I'll share a video of the correct streak free method on the Ford Mustang further below. Spoiler: It came out 100% streak free with no effort whatsoever.
Initial Observations and lessons learned:
First off Hydro is just plain cool. There's really no other way to say it. Just getting that part out of the way…
I had expected to need more product but in fact found that it easily covered the vehicle glass, trim, tires, and paint. If I had done wheels, wells and barrels first time around, 30-35ml may have been needed but 25ml was all that was needed for this vehicle.
As I mentioned only apply in this manner to a wet vehicle, don't use in the sun, and don't leave HydrO2 on the surface long at all or you may get streaks that you won't be happy to see. Break the vehicle into 3 or 4 sections or move really fast and don't gawk at cameras and you'll be streak free.
I don't believe I have felt any product that has the feel of slick glass like HydrO2 immediately after application and it actually feels even slicker hours later. There are sealants that are extremely slick and its not exactly the slickness I'm talking about but the felling of glass combined with slickness. The SL sitting outside 24/7 all this time the paint was certainly not smooth but it is now.
Video: HydrO2 Testing (1st time with HydrO2 – HVLP method and then Spray bottle)
Some close-up beading video too
Please enjoy in Full screen HD
HydrO2 Testing.mp4 - YouTube
It's a New Dawn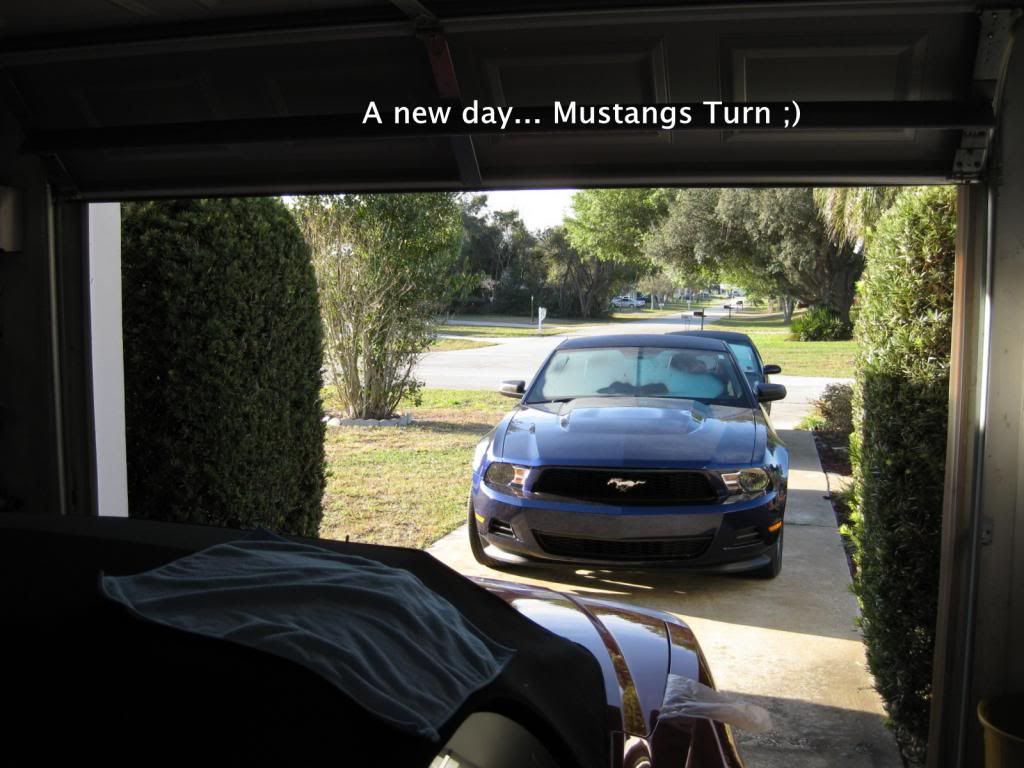 The next morning I got my first look at the natural condensation beads, which I find always tells differences in protective products… More on that later.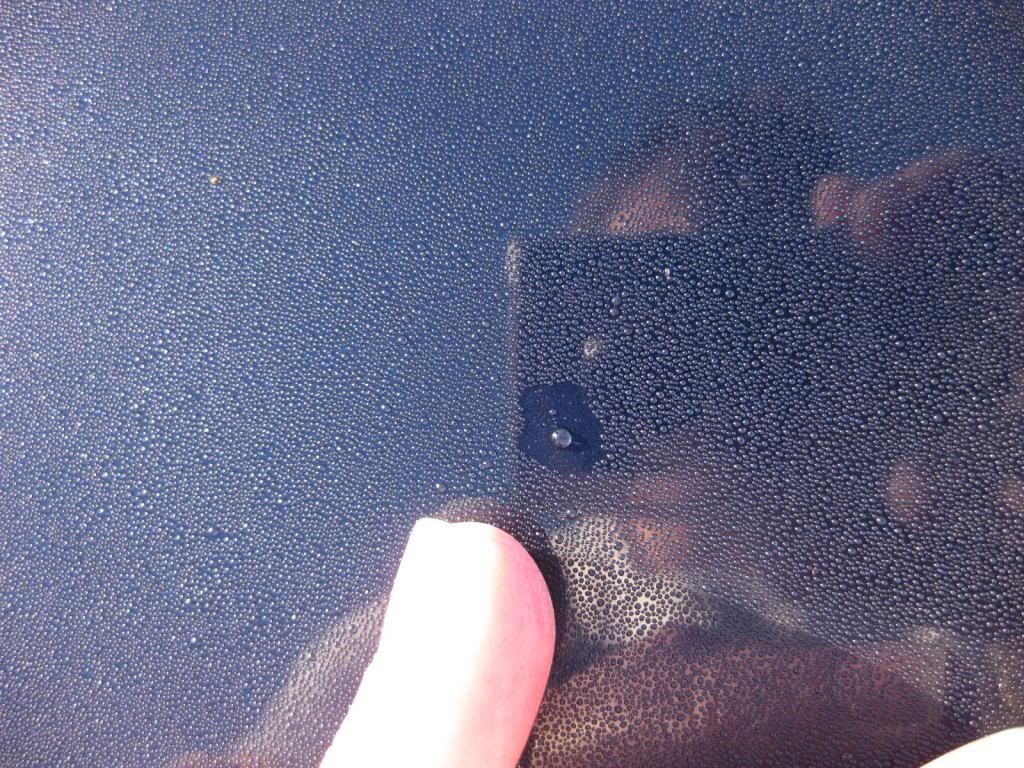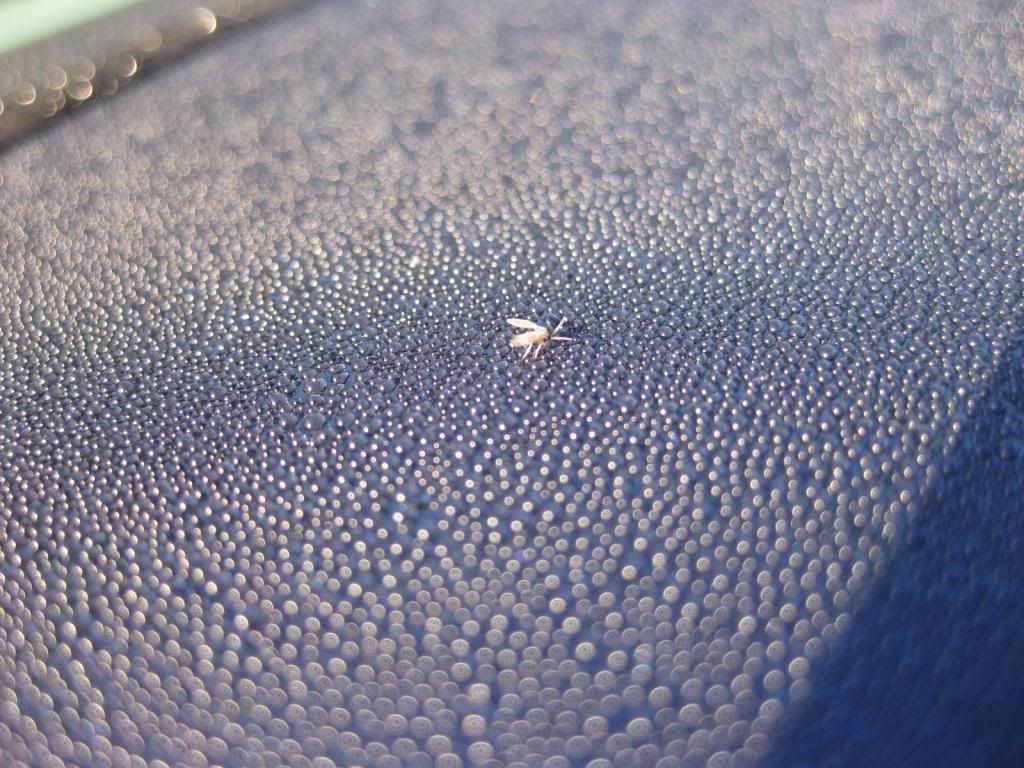 Second Subject –2011 Ford Mustang – Proper Application
Condition of Vehicle:
Waxed 3 months ago and starting to fail. In need of both decon and polishing… I know… Time is short… ☹
Preparation:
On the Mustang I thoroughly washed the entire vehicle. I wanted to get a good test of HydrO2 with no contaminants or previous lsp in the way so I decontaminated the hood with our Polyshave block using Iron X paste as lube. After thoroughly cleansing the surface I polished it with Fixer and a 6" Cool Pad via Flex 3401. I did not finish it down with a finishing pad or any other steps beyond use of Eraser to remove polishing oils. The rest of the vehicle had nothing else done to it beyond the wash with one exception. I did complete a single test section on the hood with a finishing pad/polish combo. One of the after shots (not sure which) is zoomed in on the test spot I did with finishing polish but the rest of those pics are with only the cool pad and Fixer.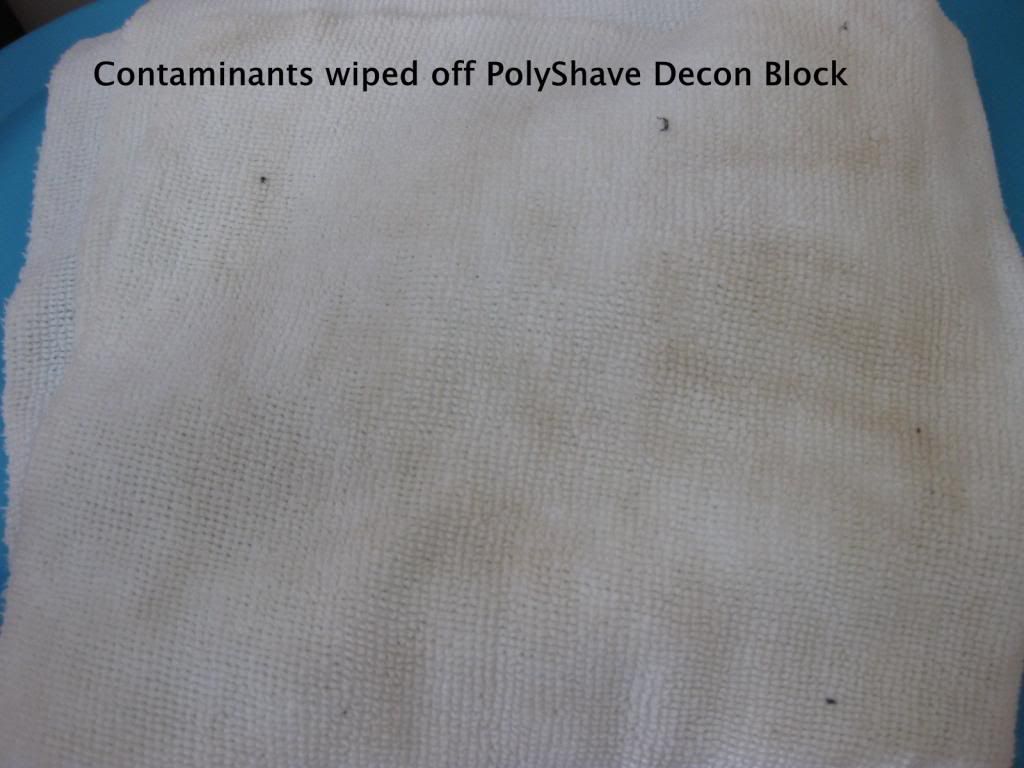 I taped off a small square on the lid to compare Permanon as requested by a few readers. I'll let the videos get back to telling the story of HydrO2 application and then we can move forward.
Video:
Quick Prep in FF - YouTube
Application:
Please enjoy in Full screen HD
CarPro HydrO2 Application - YouTube
After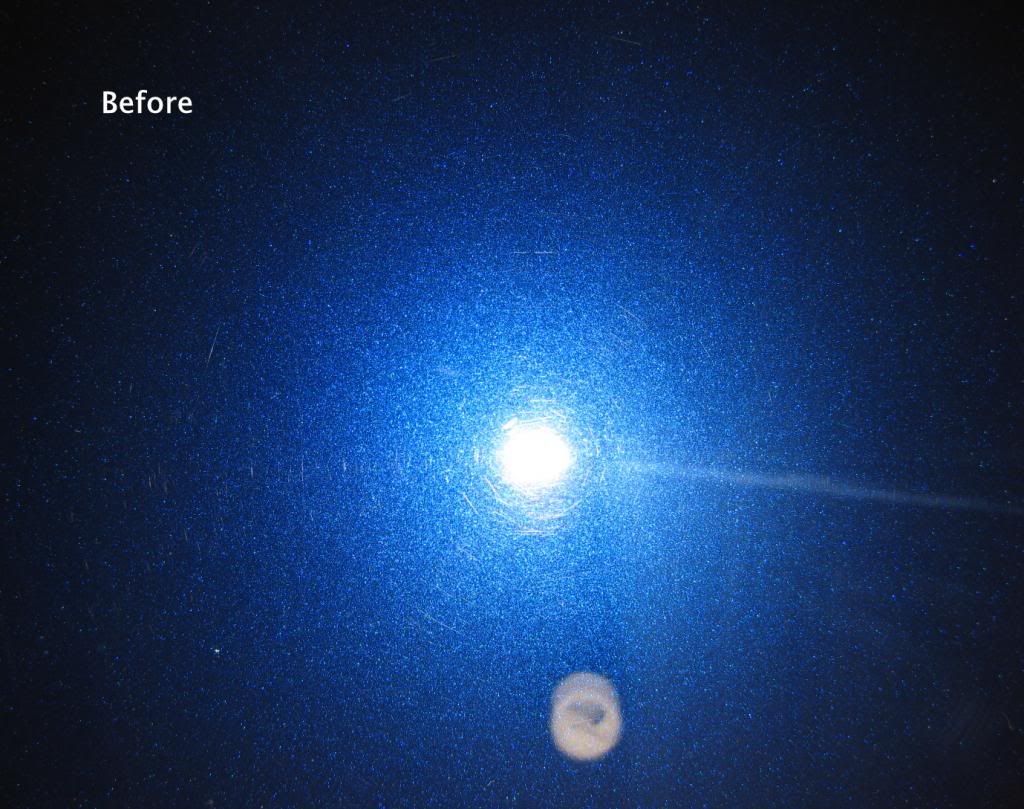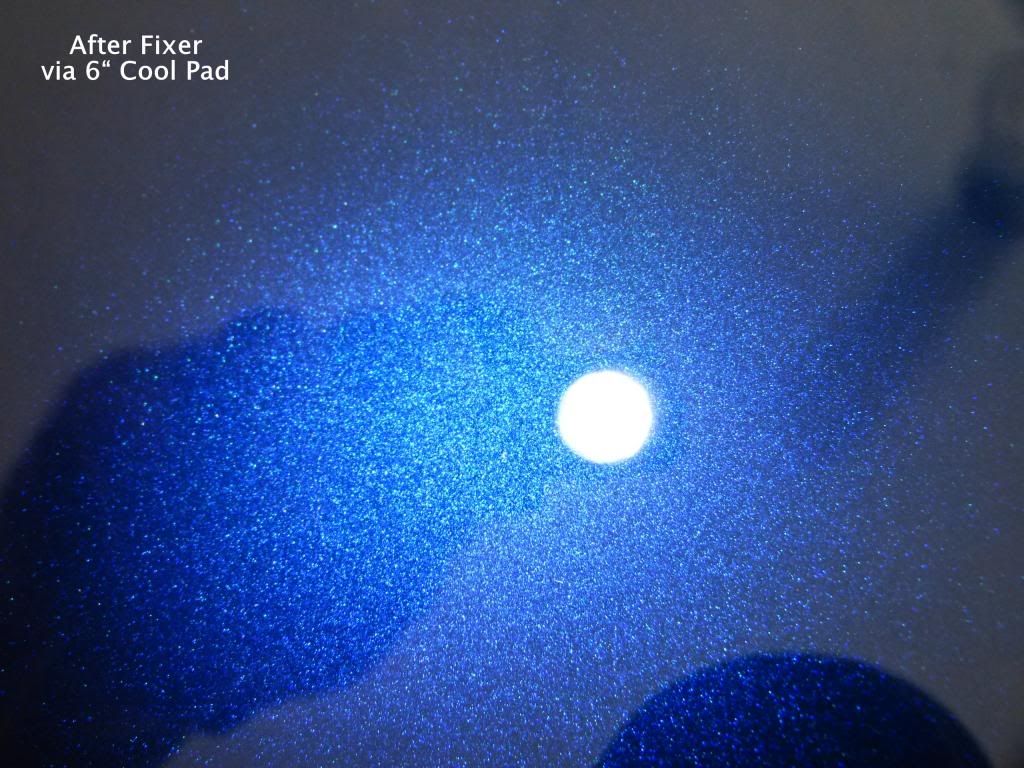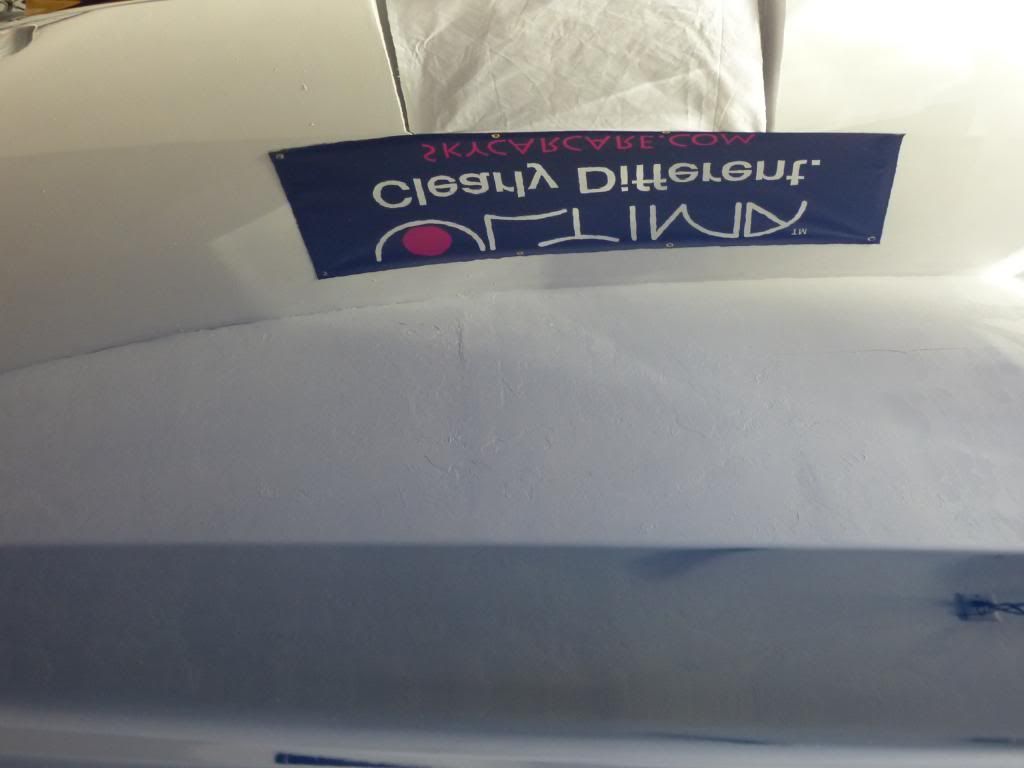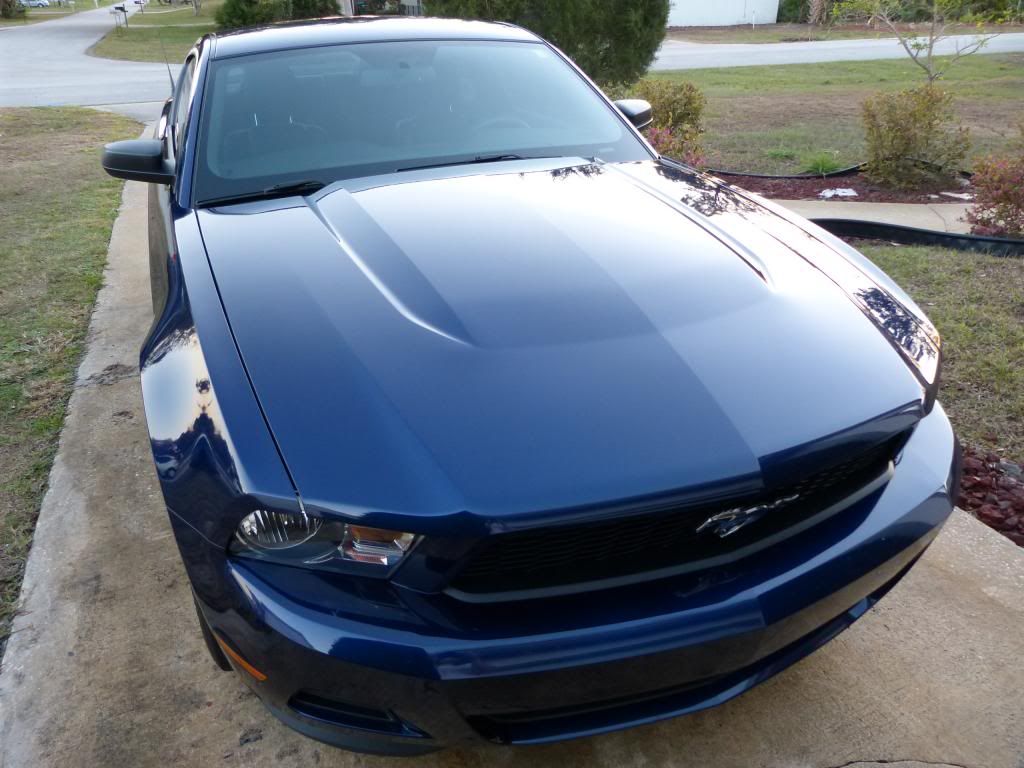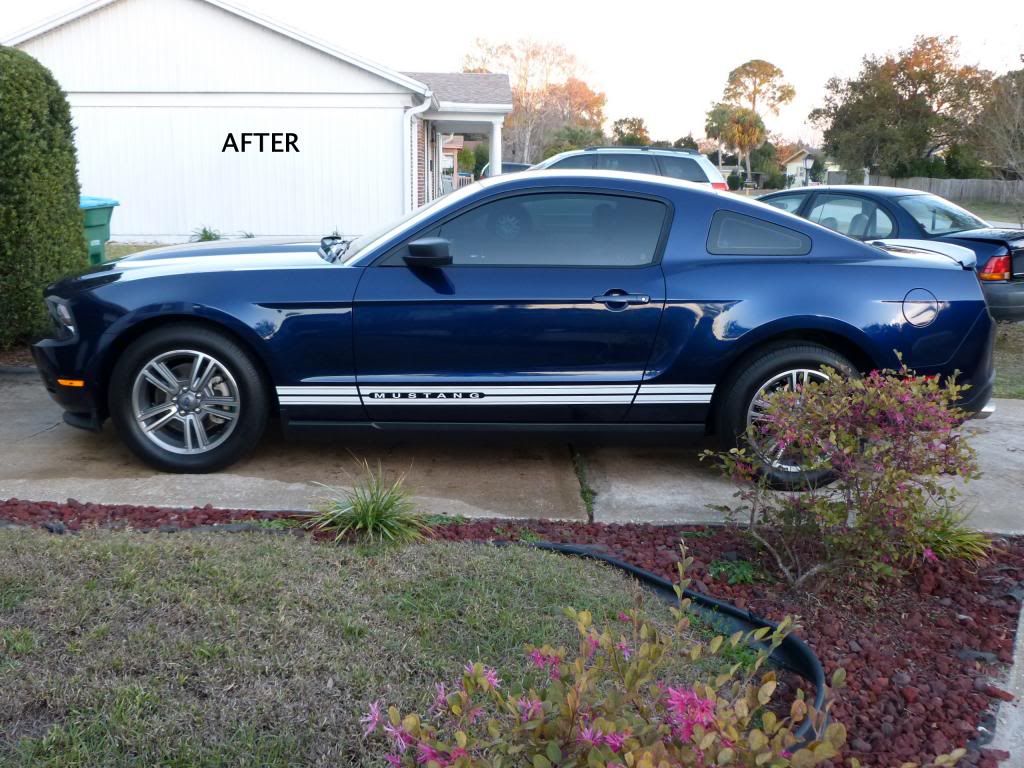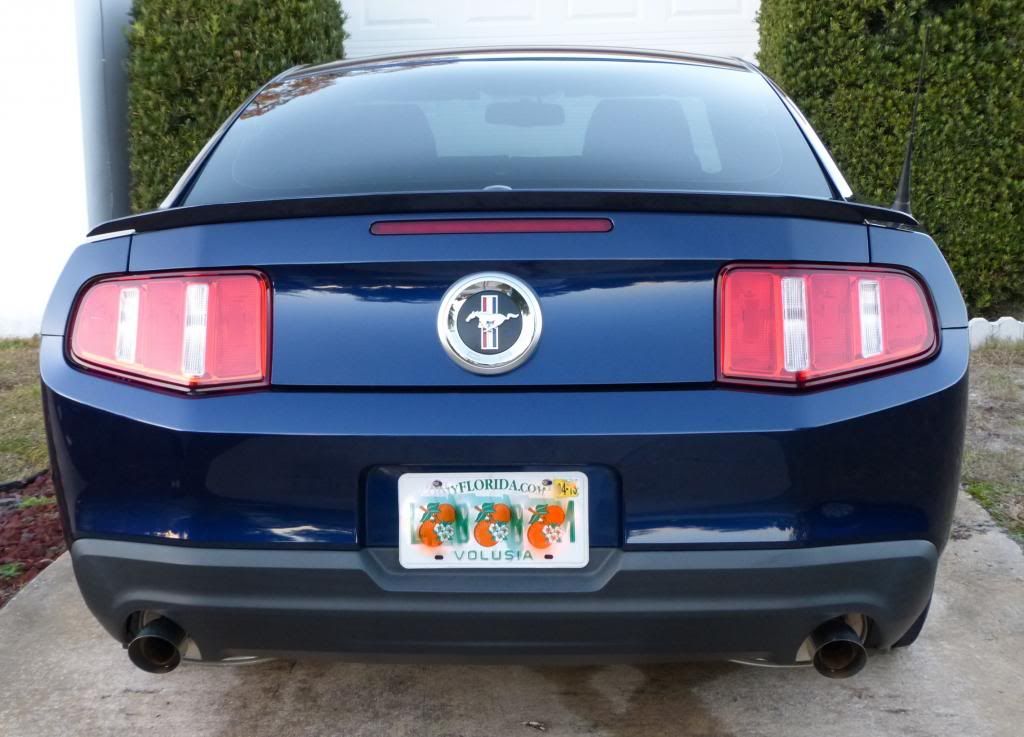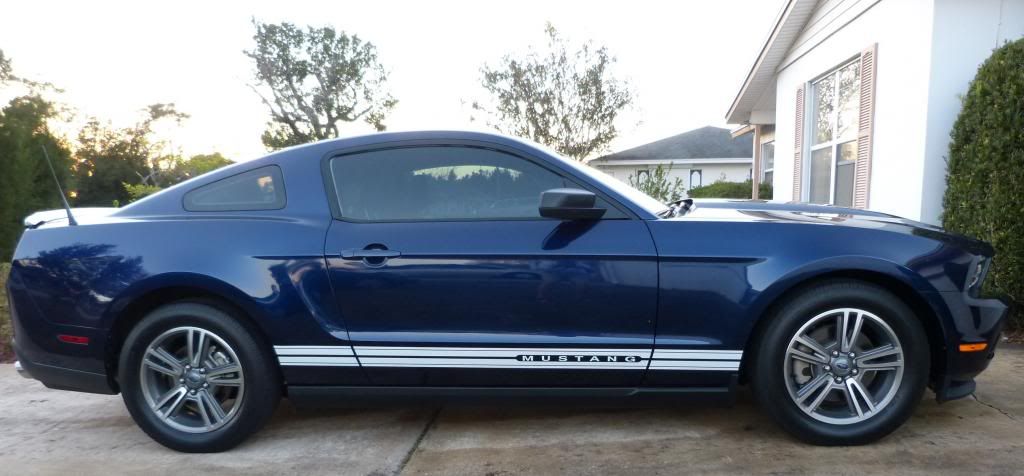 The following morning I was very excited to see the difference condensation would yield between HydrO2 and Permanon Platinum.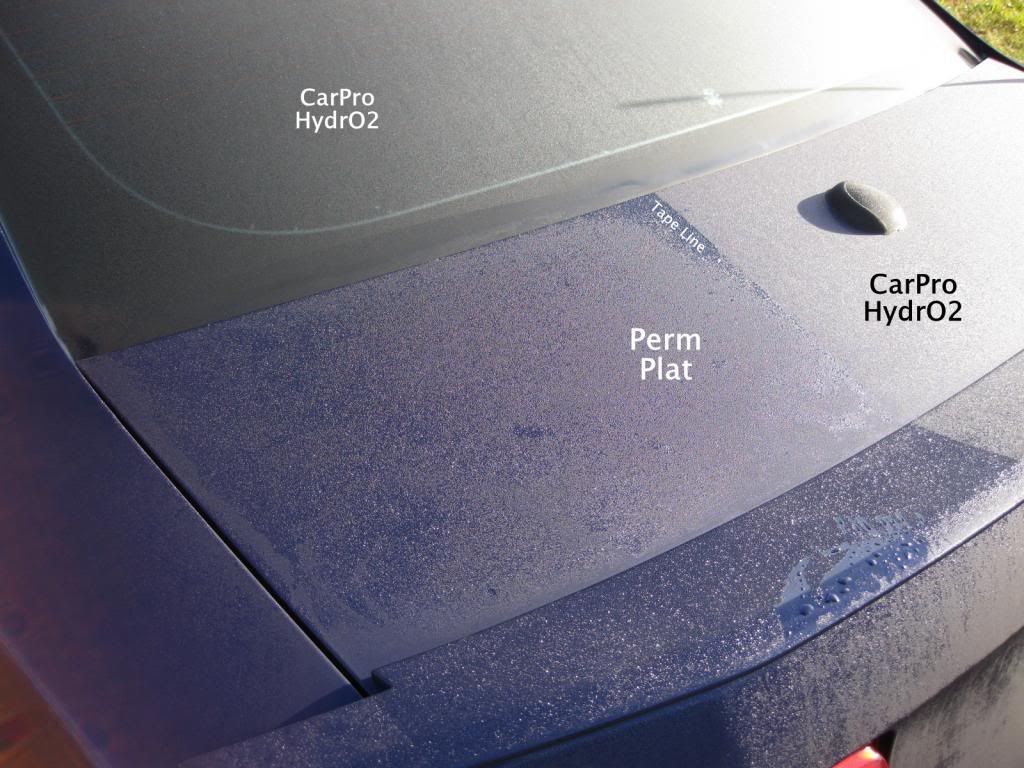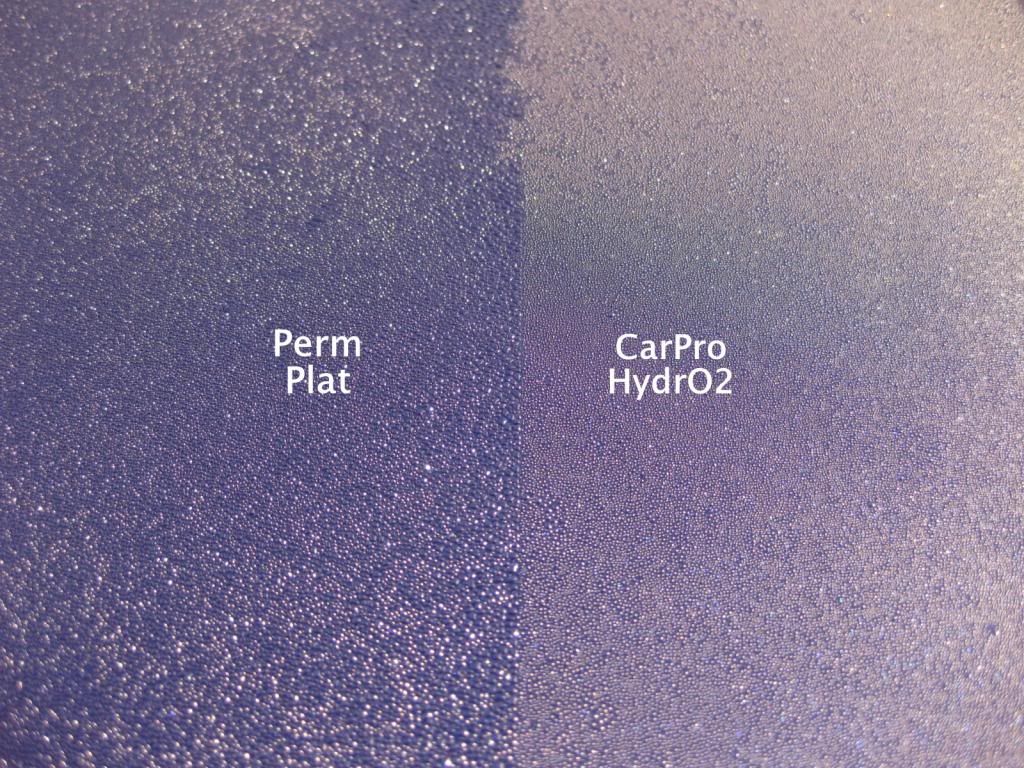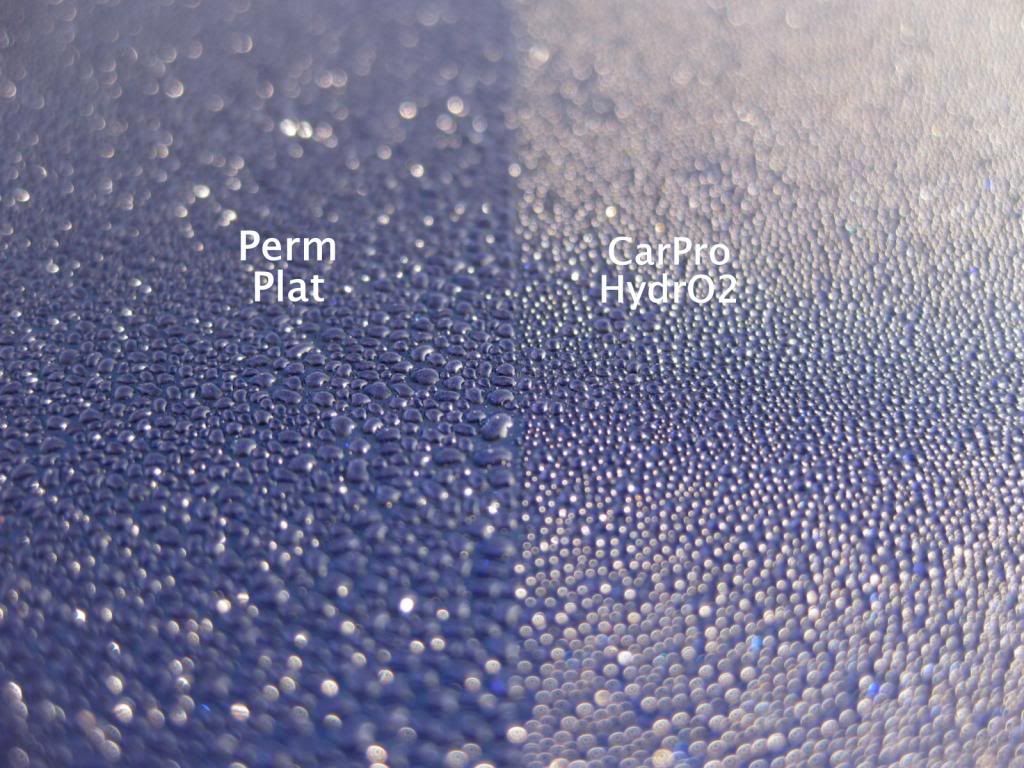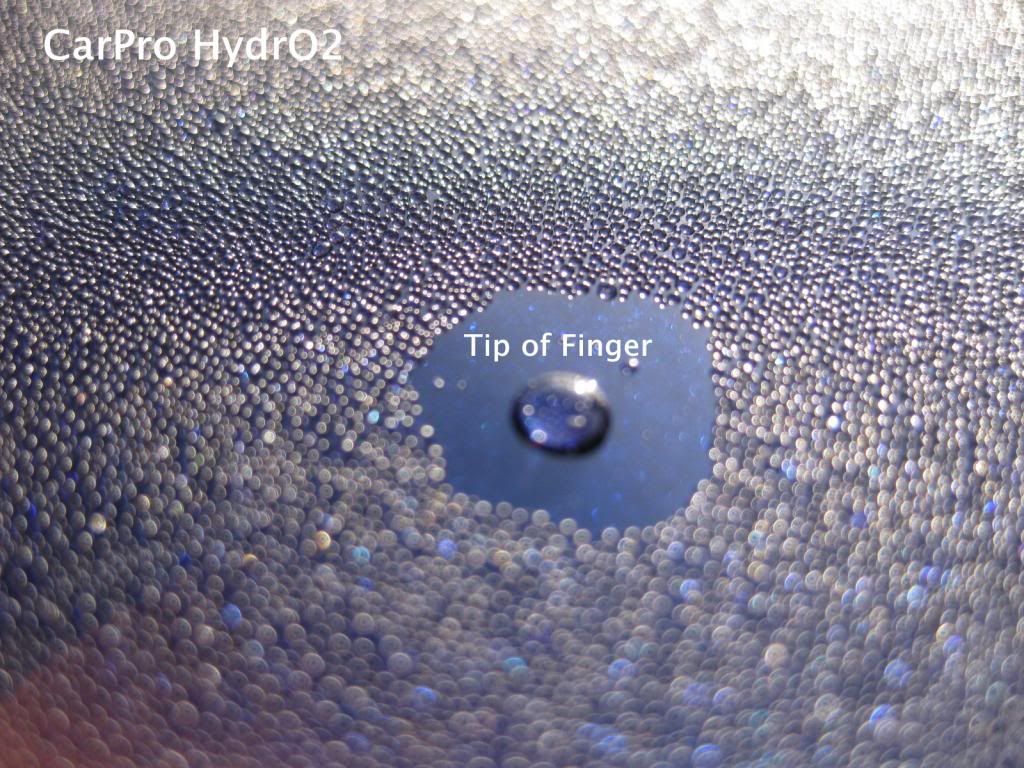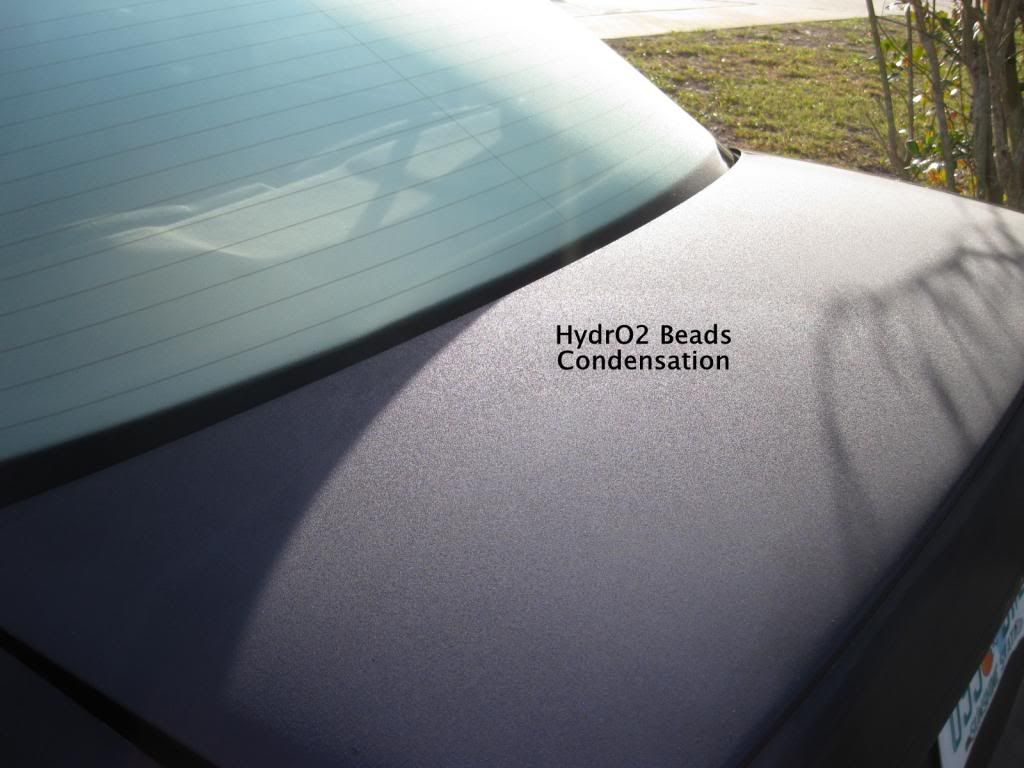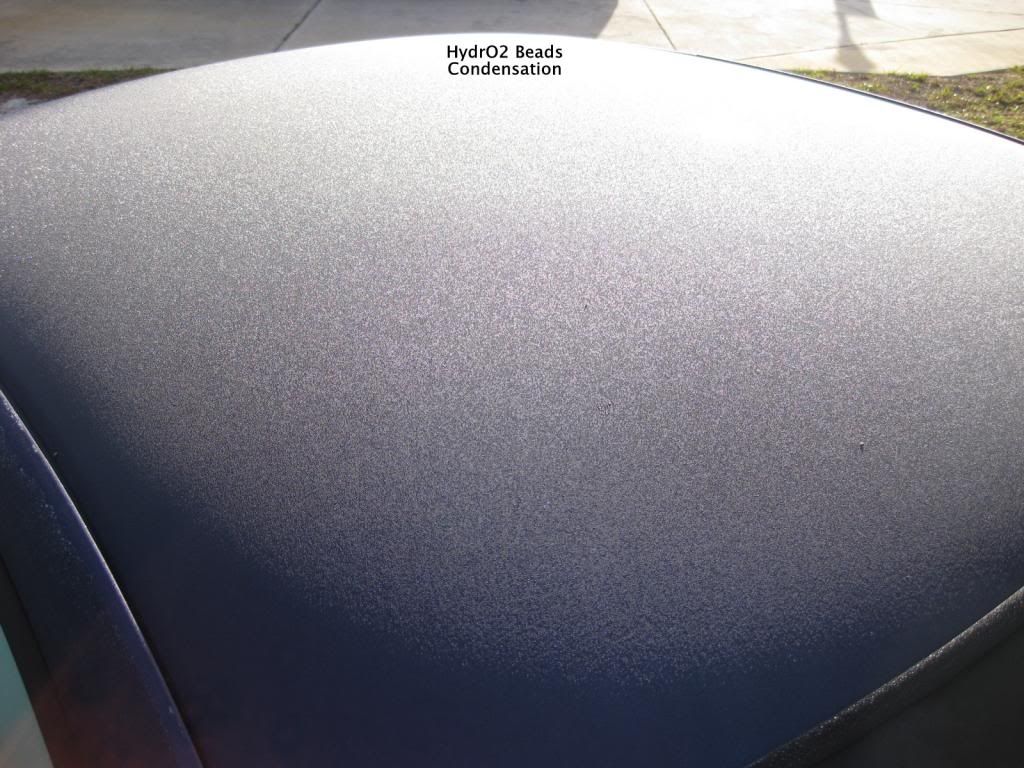 And a couple beading shots of the SL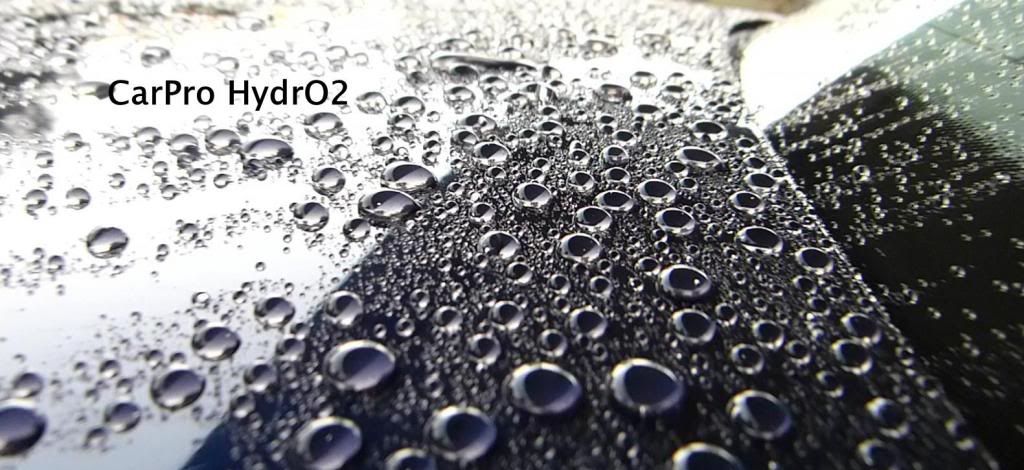 Pros:
1.-Application: Ease of use
2.-Ability to easily seal hard to or impossible to reach areas
3.-Versatility: Use on all surfaces
4.-Labor cost savings
5.- Gloss, theres no question it adds a rich gloss to the paint
6.- Slick Glass feel (Love it!)
7.- Vehicle stays cleaner longer, Bugs wipe off easily.
8.- Resistant to environment and chemicals far more than wax or sealant
9.-Choices: From 1.7 Ounce up to 1.32 Gallons
10.-Wonderful on glass!
11.-Adds slickness and repellency to coatings that lack it
??? - Items to test further:
1.-At what temperature does it fail (for example on motorcycles, exhaust tips, etc)?
2.-Durability: Claims of up to 1 to 3 months
3.-How much will it be affected by
4.-I'm testing in windshield wiper reservoir at 1:10 & 1:15 to verify it wont leave streaks where it over shoots onto paint.
5.-Does rubbing with a wet sponge method yield better durability?
Cons:
1.-Can not be applied in the sun.
2.- Educated assumption - Paint needs to be cleaner than when you apply a wax or sealant for best bonding.
3.- Applying to the entire vehicle at one time has the potential to leave streaks if left on surface too long. What to do? – Apply it correctly and its fool proof!
Final Observations and Notes:
Easy, glossy, slick, versatile, time saver, all of these are a resounding YES. The only thing left for time to prove is durability. I am really looking forward to seeing how long it lasts on the various prep tests I did and hearing from everyone else. If I get a strong solid month of this kind of protection and this ease of use I will be satisfied and use it regularly for the time savings, 2 months and I'll be extremely happy. 3 months and I would be blown away. It passed my first Dawn wash test so bravo there, and applied over the top of glass and on my existing coat of Flyb30 it appears to have bonded well to them. On my CQuartz test panel I also applied HydrO2 and it appears to be a good bond there as well.
One place this product excels is at sealing anything you want even if you cant reach it. Seal your brake calipers, door jambs, undercarriage, wheel wells… The ability to seal places you can't reach with waxes, sealants, and coatings easily by hand is great to have in the CarPro line.
Bottom line: Sealing an entire vehicle in minutes without any buffing is a truly joyous experience.
Estimated Cost Per Vehicle and Qty. Applications per bottle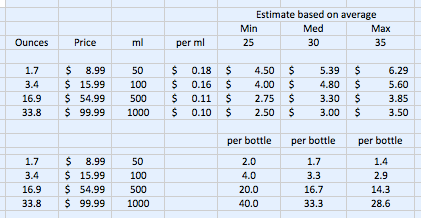 Will Follow up on testing:
Thank you for taking the time to read this review! Cheers
Discussion, questions, comments, and thoughts are welcome and appreciated.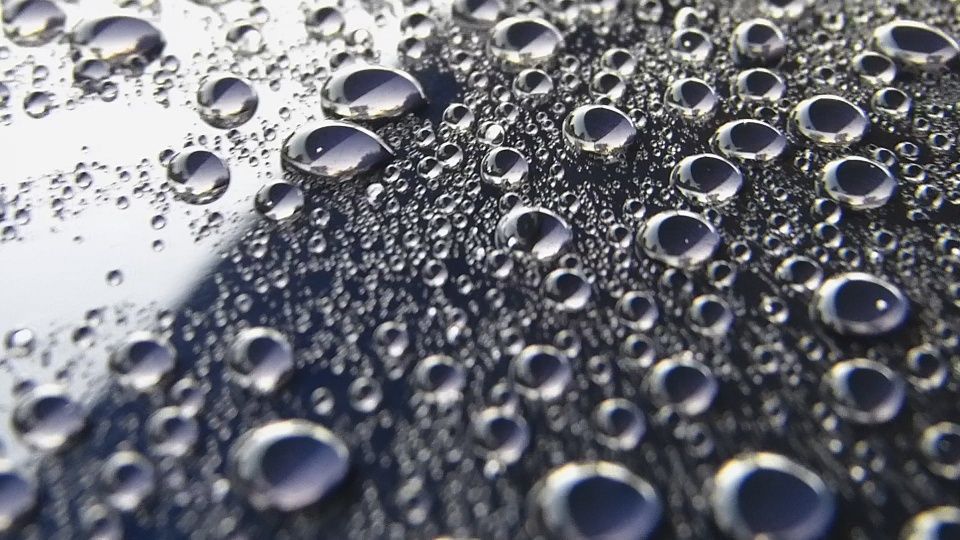 Edited by CEE DOG, 07 February 2013 - 06:40 PM.