Review: Metro Full Size Vac N' Blo 4.0 HP Vacuum


Introduction:
For some time now I've been using a rigid shop vac I purchased at home depot. I've been interested in the Metropolitan line of blowers and vacuums for a couple years and after purchasing the Metro 8HP Master Blaster a few months ago I was blown away and was eyeing a couple of the Metro vacuums including the compact silver unit as well as this vac n blow. Well, I've had it for a few weeks now and spent a good amount of time with it.
Product Claims:
Larger vehicles are easily dried with the Metro Full Size Vac N' Blo 4.0 HP Vacuum, using 24 feet of flexible hose. Whether you're vacuuming the inside of a SUV or blow-drying your motorcycle in the driveway, the Metro Full Size Vac N' Blo 4.0 HP Vacuum gives you the extra hose and extra power you need. This convenient wall-mount car vacuum is a fantastic addition to a detailer's garage.
Details:
01.- Color: Black
02.- Shell Material: Steel
03.- Weight: 8 lbs
04.- Hose: 24 FT Long
05.- Hose Diameter: 1 1/4" I.D.
06.- Power Cord: 12 FT long (grounded)
07.- Filter: Washable / re-useable
08.- Lift: 95" (claimed) Will be tested in follow up
09.- Horsepower: 4.0
10.- Current Price: $249.99
11.- Manufacturer: Metropolitan Vacuum Cleaner Co
12.- Made in: United States of America
Includes:
Dual Power Unit with wheels
Wall mounting bracket
(4) 6 foot Hoses (24 feet)
(2) 20" Extension Wands
Micro detailing attachments
Shoulder Strap
Blower Nozzle
Floor brush
Inflator Adapter
Pik-All Upholstery nozzle
Dust Brush
Crevice Tool
Hose bracket
Attachment organizer
3 paper bags
12ft. grounded cord set.
Getting Started:
When I unpacked my new Metro Vac N Blo I sorted through all the goodies and got to the wall bracket and hardware. Next I got my drill out, used a level to set the bracket where I would be placing it, and marked a couple spots on my garage wall. After drilling the holes and setting the bracket up I was ready to go. There is also a hanger for the hose but with the way I have things set up I use the garage door track to hang the hose so it wasn't needed for me.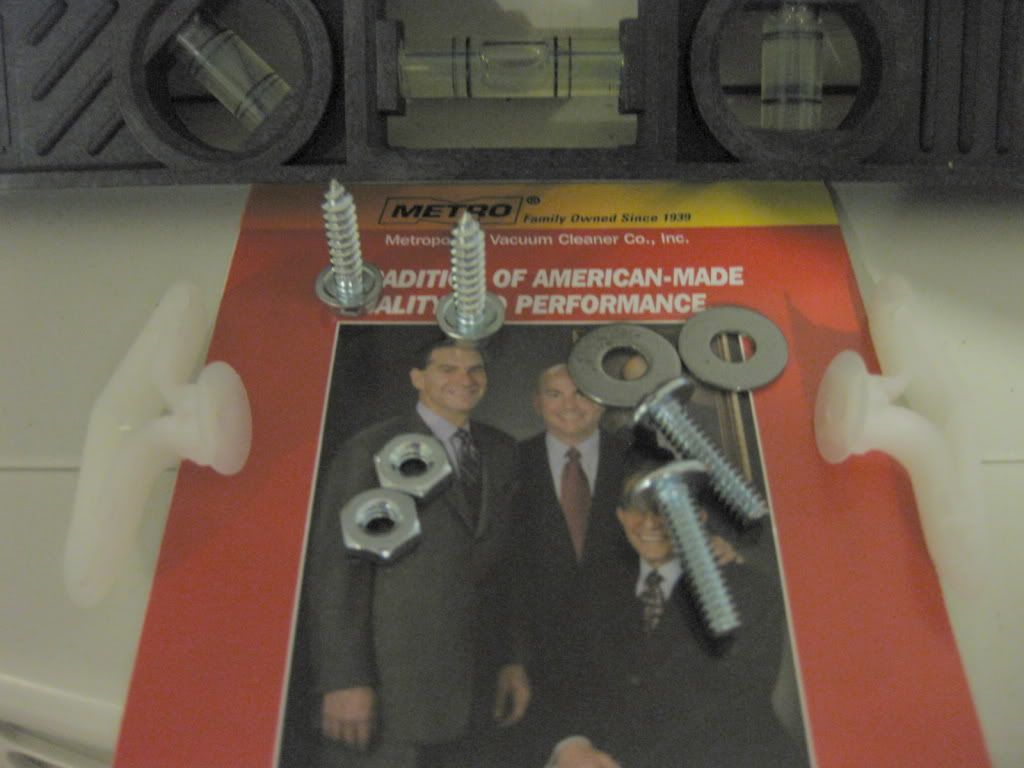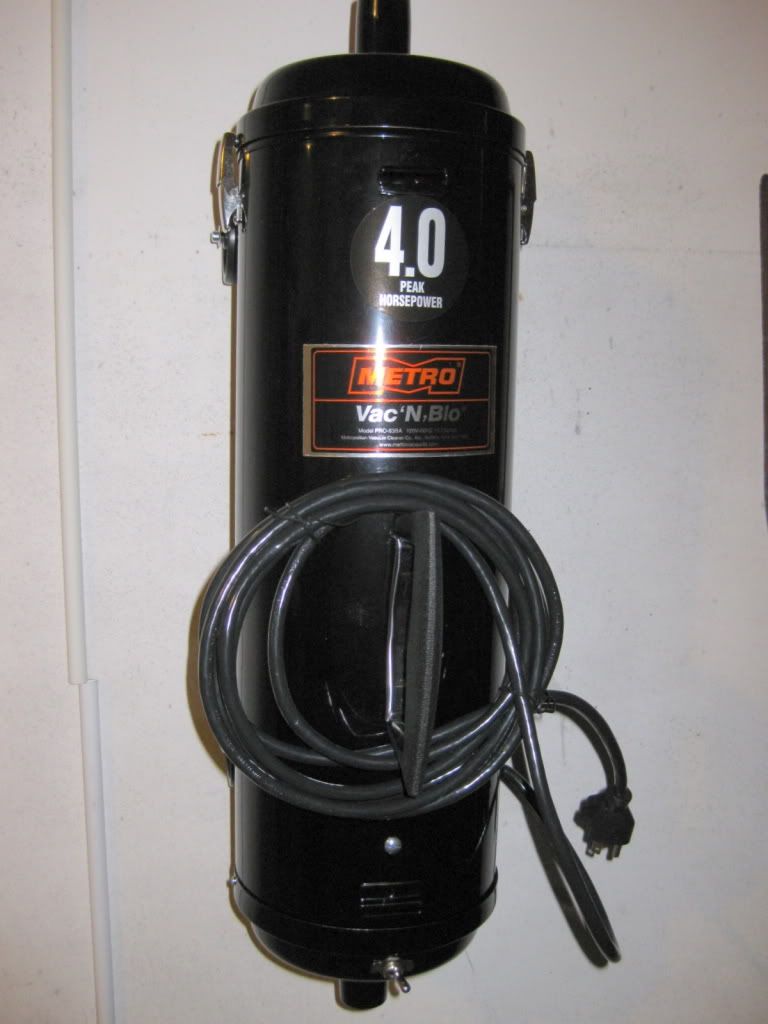 Getting Familiar:
The option of both mobile and static access around the vehicle is the first of many versatile features. It comes with an attachment so it can be hung on the wall and with a 24 foot hose - (4) 6 foot sections to be exact, you can leave it on the wall and reach all areas of most vehicles. By fashioning a bracket or attachment on the ceiling or simply running it across the garage door tracks you can reach the other side of the vehicle without pulling the hose through the vehicle and without moving it.
Of course there are many people who for one reason or another need to take the unit outside or go mobile with it. Luckily it's easily removed from the wall bracket and ready to go mobile just by lifting it. It has 4 wheels so it can be set on the ground and wheeled around and also comes with a shoulder strap, which allows it to be carried around on your shoulder if that is your preference.
Video: Introduction
Vac n Blow Introduction.wmv - YouTube
Two Functions / One Machine:
As the name implies this unit is a vacuum and also a blower. There is an upside and downside to having (2) units in one. On one hand you don't have to deal with an additional machine but on the other you will have to remove the bag for maximum air movement and correct usage. The bright side of this is that the top of the unit pops right off with two nicely designed stainless steel snaps. Removing the top and bag and or filter (when needed) couldn't be quicker or easier so the benefits far outweigh the negative. However, if you want a blower that can be used to blow the entire car without the use of a towel I would recommend the Master Blaster.
Applications:
With a variety of tools and attachments the Vac n Blow can quickly clean the wide-open area of a van and with the switch of an adapter be used to clean the vents or anything in between. The bend radius on the hose is incredible and allows you to get into just about anywhere. As seen in the videos below it has a very user-friendly bag and filter system as well. I'll let the videos show you the unit in action.
Video: Vacuum In Action #1 (Various attachments and Skybaby) Music by: Tom Petty
Vacuum function 1.wmv - YouTube

Video: Vacuum In Action #2 (Sand filled Carpet) Music by: The White Stripes
Vacuum function 2.wmv - YouTube
Video: Blower In Action (Music by: Tom Petty)
Blower Function.wmv - YouTube

Images:

Metro Vac N Blo standing next to its Cousin the Metro Master Blaster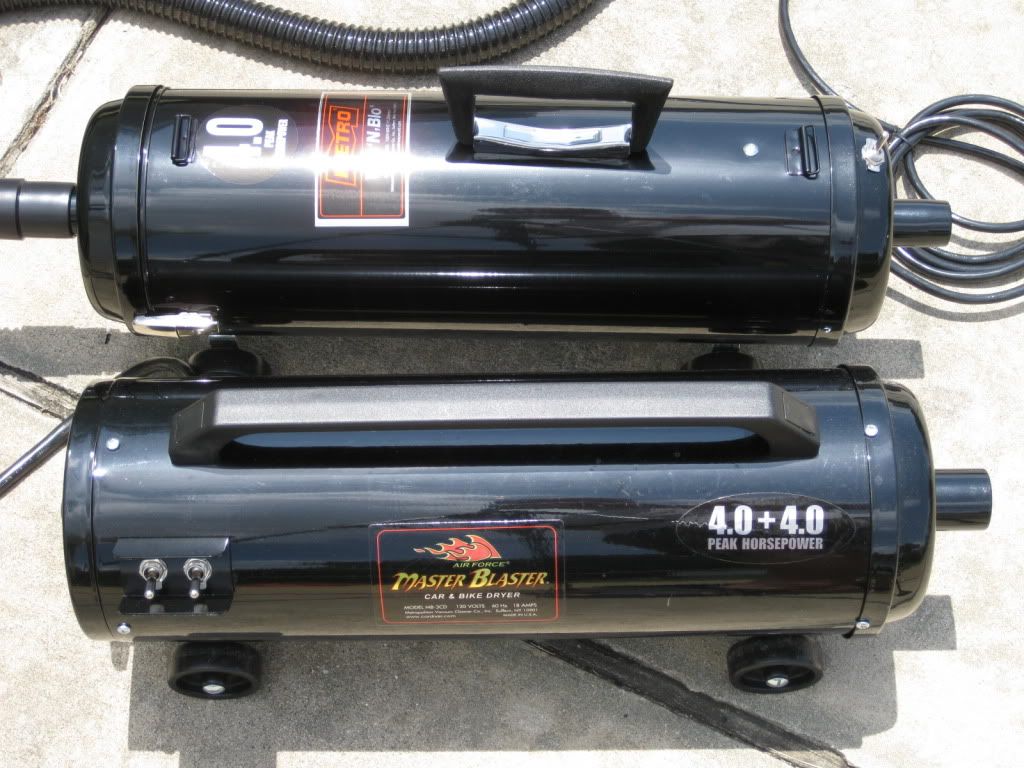 Some of the included Attachments and Hanging Organizer Bag




Some of the included Attachments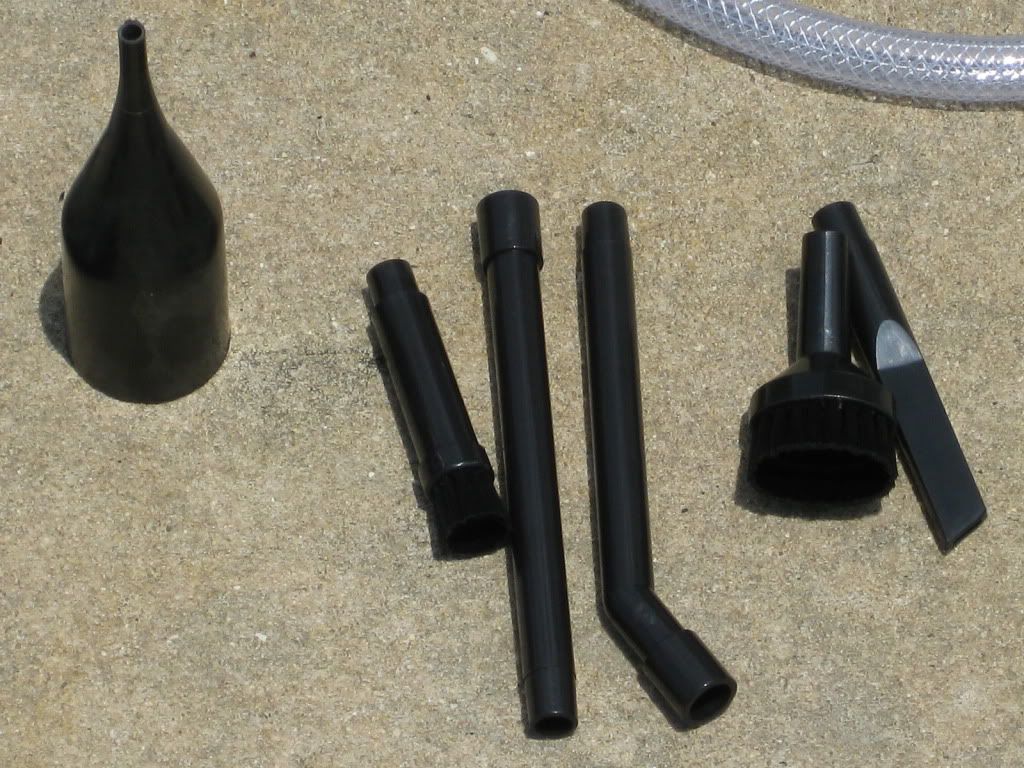 Before Vacuuming




After Vacuuming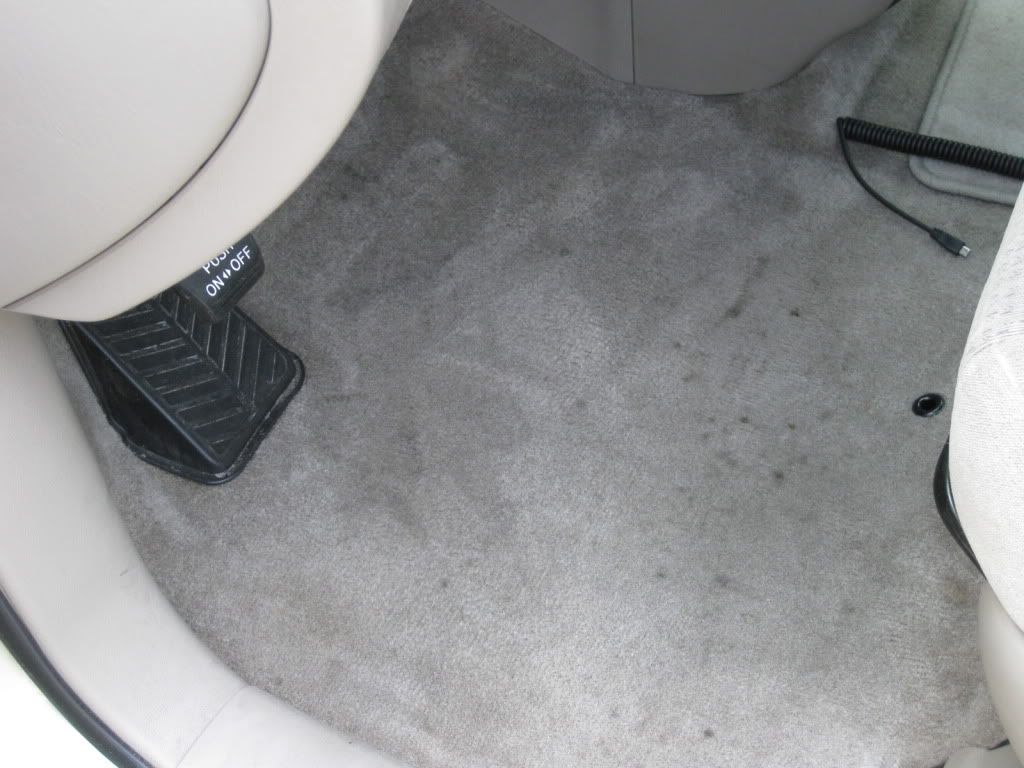 Pros:
1.- Versatility: Detachable hose lengths, adapters, wall hanger, and shoulder strap
2.- Flexible Hose: Boasts an incredibly tight bend radius
3.- Filter prevents the unit from blowing debris and is washable and reusable
4.- Attachments of every kind
5.- Made in the USA
6.- Intelligently designed
7.- Well Built: so far so good
???
1.- For those that need more capacity the Vac N Blo Sr. is the same unit with double the capacity. It weighs 16 lbs in contrast to the 8 lbs of this unit.
2.- Water lift test to follow soon
Cons:
1.-Price
2.-No Hepa filtration (Higher priced Metro Stainless Steel unit does offer Hepa filtration)
3.-Blower not very powerful (Of course after using the Master Blaster I suppose it would be hard to impress me)
Final Observations:
I agree with the product claims shown at the beginning of this review. It is indeed perfect for blowing your motorcycle dry or vacuuming any vehicle.
I'm happy with my Metro Vac N Blo as I was constantly having trouble with my old Rigid Vac trying to bump against the edge of the car. The hose from my old vacuum was very bulky and stiff and unable to access some areas of the vehicle so the flexibility of the Metro Vac hose is a treat.
With a variety of options for both carrying and storing the unit as well as a huge variety of attachments and extensions the Vac N blow is able to reach into just about any area you can think of. And it does so without the bulky car banging bother of a lot of shop vacs.
For those fearful of using the same hose to vacuum and blow you could use 12 feet exclusively for each function or purchase another hose. Personally I enjoy my Master Blaster for drying the car so I won't take advantage of the blowing function that much but for those that don't have the MB I can see this coming in handy. While it doesn't have the power of the master blaster for blowing it would be an excellent tool for blowing out crevices, wheel wells, and wheels when drying your car. If you were of the OCD variety (like myself) I would consider a separate hose for blowing delicate surfaces. If you decide to purchase a Metro vacuum and are interested additional hoses are available from the same place you purchase the vacuum.
I hope you enjoyed the review. Comments and questions are appreciated.